Barbie Christmas Shopping game
Follow us on Facebook and Youtube: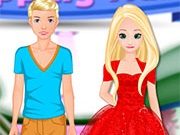 Description: Barbie Christmas Shopping
Barbie and Ken now have a year living together. This year was pleasant and cheerful. After a couple of days will be New Year and Barbie wants to decorate their shared home for the holiday. It has 1 thousand dollars. She wants to spend the money and buy the right thing at the supermarket for home decoration. Help Barbie to Perform this is not easy for her step. Select jewelry in the store, and then select where they will be placed in the house.
How to play: help Barbie and Ken to decorate their home. First buy all jewelry in the store, and then place their room Barbie and Ken.