Princess Juliet Museum Escape game
Follow us on Facebook and Youtube: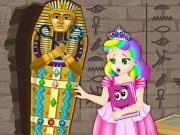 Description: Princess Juliet Museum Escape
Princess Juliet loves learning new things. No wonder she walks with a book constantly. Today she decided to go to the Museum and explore the history of Egypt. There are so many interesting things! This animals and plants of Egypt, coins and tools. There was so interesting that she did not notice as the Museum closed. What can you do? After all, the girl left alone in a dark Museum. How to find a way out? Let's help her find the keys to the doors and return home from an empty Museum.
How to play:
help the Princess to find a way out of the Museum. At each of the four levels, solve puzzles and challenges to find the keys to the main doors of the Museum and run off with night of the Museum.
Princess Juliet Museum Escape game walkthrough: