Princess Juliet looking for treasures game
Follow us on Facebook and Youtube: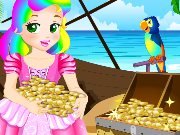 Description: Princess Juliet looking for treasures
Juliet is not afraid of danger. She's going to steal the treasure from the Troll pirate. Help the girl to find all the objects to execute their plan. In this game you can use the tips. To do this you will need to select your age. The more the age, the less hints.
How to play:
help the Princess Juliet to find the treasure that was stolen by a pirate. Use the mouse and hints in the game to complete quests and leave the Troll without a chest of coins.
Princess Juliet looking for treasures game walkthrough: