Princess Juliet Zoo Escape game
Follow us on Facebook and Youtube: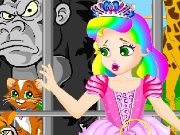 Description: Princess Juliet Zoo Escape
Princess Juliet and her little kitty went to rest in the zoo. This is a very interesting place for those who love animals and want to see them live. The stay was wonderful until the kitten is scared of the lion and ran away from the Princess Juliet. The girl is very worried about the kitten and would like to find your pet. She wants to hurry back with my little kitten. Help her in this and pass all three levels of the game.
How to play:
in this game you will be able to help the Princess to help Juliet to escape from the zoo with her favorite kitten. It is not an easy task as you could think. First you need to find the kitten, and then exit from the zoo. Try to find your pet in a short time.
Princess Juliet Zoo Escape game walkthrough: