Baby Juliet Got Flu game
Follow us on Facebook and Youtube: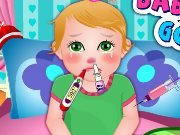 Description: Baby Juliet Got Flu
Baby Juliet has a cold and she needs your help. She went to the Park and rested there. But the rain came and the girl got wet in the rain. Now she is coughing and has fever. Help the little girl recover and become healthy again and full of energy.
How to play:
in this game you will be able to help the little Princess Juliet to go to the Park, and then to recover after it get wet in the rain.