Princess Juliet Prison Escape game
Follow us on Facebook and Youtube: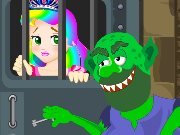 Description: Princess Juliet Prison Escape
Princess Juliet again stole an ugly Troll. This time he placed her unpleasant prison. The Troll had locked the girl in a dirty cell and only you will be able to help Juliet escape from this place.
How to play:
in this game you can help Princess Juliet find a way out of prison. Complete all three levels in the game and solve some puzzles. If you do not know how to play, check out the video of the passing game.
Princess Juliet Prison Escape game walkthrough: