Princess Juliet Carnival Escape game
Follow us on Facebook and Youtube: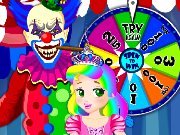 Description: Princess Juliet Carnival Escape
Princess Juliette and her talking book Koobs had a great time. They visited almost all the rides, eating popcorn and enjoying themselves. But suddenly, a terrible wrong. Book stolen evil clown. He wanted to use it for display in his freak show. We need urgently to find the book and return it to the princess. Let's help them find each other.
How to play:
In this game you will be able to help a young princess Juliet find a book that kidnapped by the evil clown. The book is locked in one of the tents. Complete all three levels to find out exactly where the hidden book and guess the code on the lock to release it.
Princess Juliet Carnival Escape game walkthrough: