Baby Juliet Washing Clothes game
Follow us on Facebook and Youtube: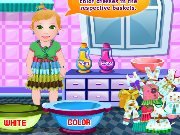 Description: Baby Juliet Washing Clothes
Juliet is very fond of flowers and beautiful garden. So she decided to plant them near the house. She decided that her parents will be pleasantly surprised as you see it. Are you ready to help her plant flower seeds in front of the house? Baby Juliet is very tried and smeared his clothes in the ground. So she decided to wash all the dirty clothes that I found at home. Before that it should be sorted into white and colored, and then throw in the washing machine. You know what is more washed separately?