Princess Juliet Castle Escape game
Follow us on Facebook and Youtube: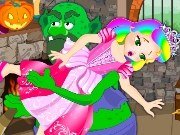 Description: Princess Juliet Castle Escape
Little Princess Juliet is kidnapped by the evil Troll. And the saddest thing is that he shut her in a room of the old castle. There are a lot of spiders and creepy smells. What girl would like to stay here? Let's help the Princess to find the keys in all three puzzles and get out on the street. Collect all coloured pieces to open the door of the box, and then get the key from the chest. And the chest will of course the key to the door! Guess how to find a way out of the other two rooms!
How to play:
use the mouse to collect items and find the master key that will allow the Princess Juliet find a way out of the castle.