Princess Juliet escape from the sewer game
Follow us on Facebook and Youtube: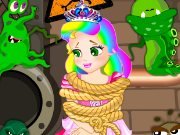 Description: Princess Juliet escape from the sewer
Princess Juliet caring for your hair when germs from the sewage escaped through the sink and kidnapped the girl. These nasty microbes tied the girl and dragged into the sewers. Juliet looks forward to your help to escape from the sewer. You need to perform three tasks and successfully escape from this nasty place.
How to play:
in this game you will be able to help her find a way out of the sewers and destroy all germs. Use the mouse to help the little girl. At each level you will need to find objects in order to use them. I think you'll do fine and enjoy this game.
Princess Juliet escape from the sewer game walkthrough: