Princess Juliet School Escape game
Follow us on Facebook and Youtube: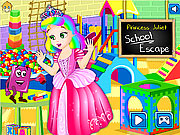 Description: Princess Juliet School Escape
Princess Juliet loves to learn as many boys and girls. It is very interesting and you can learn a lot of useful information about the world around us. This Princess Juliet school escape will tell you an interesting story about how this girl was locked in the school!
On this Sunny day Princess Juliet went to school. After class she went to the library to prepare for tomorrow's lessons and do homework. She is so carried away that did not notice how the evening came and the library closed. She was very scared and hungry. She really wants to find a way out of the library. Princess Juliet never skipped classes and didn't think about that, but now she's got to escape from school.
In this game you will be able to pass three levels of adventure. Use the mouse to select your age at the beginning of the game, and then start playing at one of three levels. You need to learn and understand how you can escape from it.