Ghoulia's School style game
Follow us on Facebook and Youtube: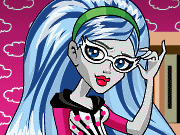 Description: Ghoulia's School style
Ghoulia Yelps is the most fashionable and intelligent student of the Monster High. She gathered a lot of knowledge about fashion and style and is going to take advantage of them and collect the most fashionable outfit among students. Can you help her to deal with it and choose the best style?
How to play: drag clothes to Ghoulia with the mouse and see how harmonious and stylish does she look.