Baby Juliet fishing game
Follow us on Facebook and Youtube: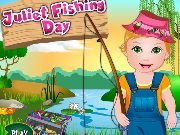 Description: Baby Juliet fishing
Baby Juliet was always fond of nature and wanted to go fishing. She even at home there is a beautiful book with the types of fish, fishing rod, box for rest and worms. She's already studied all of it and ready to arrange a day of fishing. For this it is necessary to collect the clothes and gather all the things needed for the fishermen. Of course she's not going herself, and with you.
Help her to relax. Once you are outdoors, set her on the Bank of the river and begin to fish.
Help the girl with the mouse to catch the fish she would catch. Fill the bucket with fish and go home.