Baby Barbie goes to school game
Follow us on Facebook and Youtube: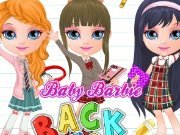 Description: Baby Barbie goes to school
Baby Barbie is preparing for a significant event in her life. She is going to school! To this day she is preparing very carefully. She goes to the store and wants to buy school clothes, shoes and school supplies. Then go to the hairdresser and make a beautiful hairdo. Then she had to do with their appearance. Now she can go back home and start getting ready to sleep. The next morning she had to wash my face, brush my teeth and wash my hands. After all this, she can take up clothes. Dress baby Barbie and let she go to School!
How to play:
in this game you can help the little girl Barbie get ready for school. Use the mouse to help the girl to go to the store and buy everything you need to learn. Then put her to bed. The next morning, help her to freshen up and get dressed. Now the girl is ready to go to school!
Baby Barbie goes to school game walkthrough: