Cute schoolgirls game
Follow us on Facebook and Youtube: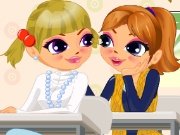 Description: Cute schoolgirls
These are the two best friends and they always have something to talk about. Soon the teacher comes to class, and the girls could not stop talking because they didn't meet the whole weekend!
How to play:
In this game you need to pick an outfit for the cute schoolgirls. It must be stylish and comfortable clothing. Look what is there in the girl's locker room to wear at school. Make her a few images that she chose what she likes more. Click with the mouse on the items of clothing to see them.