Barbie Bike game
Follow us on Facebook and Youtube: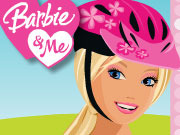 Description: Barbie Bike
Let's go with Barbie on an exciting journey. After all, with Barbie, we can all! In this game you need to use the arrow keys to control a Barbie bike. Use the SPACEBAR to jump over puddles and mud. In addition, you can use a rainbow to jump puddles too. Collect hearts, flowers and butterflies in order to get extra points.
The more points you get, the more chances you have to get printed prizes.