Barbie 24h Fashionista game
Follow us on Facebook and Youtube: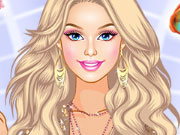 Description: Barbie 24h Fashionista
Barbie is a famous fashionista and an expert in the selection of outfits. But what if she also has to pick up for herself several times a day what she appears in at all kinds of events. I think this is tiring and she needs help. Let's see how the day of the famous girl goes and offer her help in choosing clothes and makeup. In this dress up game, you can help Barbie pick up different outfits for the whole day for various events. In the beginning, she will be called by her friends for morning coffee, then she will have a fabulous photoshoot with
Disney princesses
, then she will meet with the prince. An evening with Barbie will be held on the red carpet where there will be a huge number of guests, fans and reporters. As you can see, Barbie's day is very busy and it will be very difficult for her to prepare herself alone. Therefore, your help will be very useful to her.