Makeup for Barbie selfie game
Follow us on Facebook and Youtube: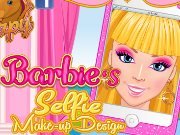 Description: Makeup for Barbie selfie
You love to do selfies? I think everyone at least once took selfies. Barbie is also keen on this fun and exciting hobby. As you know, Barbie has a blog. In her blog she tells the reader about how to dress and latest fashion trends. Now she is preparing a new article about the creation of the selfie. Let's help the girl to prepare for the creation of new and beautiful photos.
How to play:
in this game you will create a beautiful image of Barbie, who wants to show his readers of the blog her mastery of make-up and choosing clothes. Use the mouse to help talented fashionistas in this interesting case.