Barbie Mermaid game
Follow us on Facebook and Youtube: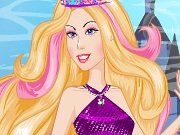 Description: Barbie Mermaid
This Barbie Mermaid Merliah Summers is the best surfer in Malibu. In addition, she has earned the title "Queen of the waves." Once at the swimming competition she accidentally dropped her hair into the water and was horrified to notice that her hair turns pink. In a panic,
Barbie
tells and shows many about the hair, but no one knows the answer why it happens. Only her grandfather said that she is half mermaid, half human.
How to play:
Choose a new dress and hair for Barbie mermaid. Look what a gorgeous hair has the mermaid! Think of how to decorate her hair and what the color to paint them. Look at jewelry and the color for the girl.
Played: 53613. Added: 17-10-2012, 22:21.. Categories:
Barbie