Sparkly dresses for Super Barbie game
Follow us on Facebook and Youtube: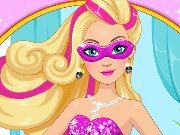 Description: Sparkly dresses for Super Barbie
Hi, girls! Today we will join Super Barbie, who wants to choose a new dress. She would like to wear bright sparkly dress and make the appropriate makeup. It seems a simple matter, but Barbie today with this complexity. How to be? Maybe you can help her?
How to play the game:
Barbie is going to choose a bright dress. Can you help her with that? She picked up a sufficient number of dresses, hairstyles, and also picked up the make-up options. What would you recommend to her?