Barbie on the wedding game
Follow us on Facebook and Youtube: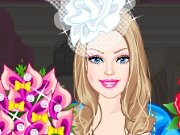 Description: Barbie on the wedding
Do you love weddings? There is so much fun, a lot of gifts, interesting people and of course the beautiful bride and groom. So Barbie was invited as a guest at the wedding. Our beauty has just updated her wardrobe and would love to show everyone herself in a new dress, hairstyle and jewelry. In addition, she would like to take a break from the heavy week. This week she had a lot of filming and interviews. So she wants to forget about it for a day and have a good rest!
In this dressing up game you will only need a mouse. Click on all that you want to try and see how Barbie looks in outfit that you create.
Played: 49509. Added: 4-11-2014, 12:27.
Play other games from this developer:
egirlgames.net
. Categories:
Barbie