Fashion-monger Barbie plays golf game
Follow us on Facebook and Youtube: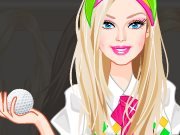 Description: Fashion-monger Barbie plays golf
Barbie as many girls loves to dress fashionably. Though the sport is not the place for fashion, but Barbie decided to try this game and dress fashionably. Look into her closet and see how many interesting clothes that can be easily put on for a golf course. In this dress up game there are ready options of outfits. You can see them by clicking on the button with the light bulb. There will be four versions of set of clothes. Can you recreate the same? Or did you decide to create a better outfit than suggested in this game? Let's try and see what you get.
Control of the game does not force you to learn something new. It is enough to choose the dress, hair, makeup and jewelry with the mouse , and move them to a fashion monger. You may get the most comfortable and beautiful dress and Barbie will surely to win a round of golf with not a very experienced player. And who knows, maybe she will become interested in this game and will play on the competitions?
Played: 48618. Added: 19-08-2015, 09:22.
Play other games from this developer:
egirlgames.net
. Categories:
Barbie