Barbie at Bridal Boutique game
Follow us on Facebook and Youtube: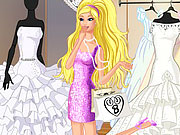 Description: Barbie at Bridal Boutique
Barbie is married! This exciting event, which has already know all her friends and they all invited. But the dress is still not selected. Barbie has decided to take you as an expert and go with you to the Bridal salon. There you will be able to choose the best dress for wedding for its parameters.
How to play:
will be a wonderful event this weekend! Barbie is getting married and needed a dress! The game has two game modes. In the first "Freestyle" you just choose a wedding dress for Barbie. And in the "Challenge" you get the job, which shows the size, the maximum cost of the dress and wishes. Select three dresses, that you think are relevant and go in the dressing room. There's a Barbie wearing these dresses and choose what she likes best. Help her to choose dress and you'll be invited to her wedding!