Urban Gipsy Style dressup game
Follow us on Facebook and Youtube: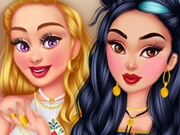 Description: Urban Gipsy Style dressup
These girls love trying different styles of outfits. Before that, they tried to be in Indian style, and before that in hippie style. Now they've decided to wear gypsy style outfits for a whole week! Their imaginations are enviable. After all, who else can decide on such harsh actions and even to be supported by their friends! In this dress up game, you can dress up four girlfriends in gypsy style outfits. Like no one else, gypsies will be able to choose beautiful dresses with patterns and decorated with rose flowers. Choose each of the girls to choose beautiful gypsy outfits for them and create a new style for each.
How to play:
In this dress up game you can choose outfits for girls in gypsy style. Use your mouse or finger to interact with items of clothing in this game.