Wash and clean school bus game
Follow us on Facebook and Youtube: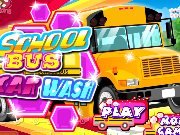 Description: Wash and clean school bus
In this game you have to clean up the school bus. He not only dirty, but also had a broken window, a flat tire and a big mess inside the bus. We must really try to make the bus clean. Use a broom to remove all the debris on the floor. In addition, you will have a bucket where you can throw a crumpled paper, bottles and other debris.
How to play:
In this game you will be able to do the cleaning of a large school bus. It seems that this bus is not cleaned for a long time. Besides cleaning you need to do the replacement of windows of the bus and a pair of wheels. Use a bucket, broom, rag, screwdriver and glue to make the bus as new. Children who will drive it will be very happy with your work.
Wash and clean school bus game walkthrough: