Car cleaning game
Follow us on Facebook and Youtube: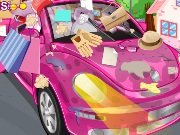 Description: Car cleaning
Sarah has recently received this car as a gift and decided to celebrate this event with her friends. They were celebrating for so long that they did not notice that the car has become unrecognizable and dirty. Take on her car and clean it carefully. On the bottom right you will see three tools that will help you to clean it.
First, throw out in the trash everything that is highlighted when you aim the mouse on it. Then click on the brush and drag it to the dirty spots and click on this place. Then use the water to wash the car. Now we have to remove everything that should not be here. To do this, click on the white glove on the bottom right and drag it to the remaining items on the car. Clean the car as fast as possible and get points for excellent cleaning!