Cute House Cleaning game
Follow us on Facebook and Youtube: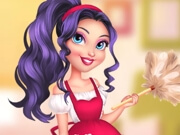 Description: Cute House Cleaning
This cute girl inherited a house. It's so cool to have your own home! She is very excited and looked forward to this day with great pleasure, when she will be able to settle in it. But she was not in for a very pleasant surprise. The house turned out to be very neglected. There is so much rubbish here and so much broken furniture! Let's help her in this difficult task. There are so many rooms! How good it is that we have all the tools to do this!
In the game, you will enter each room in turn and use tools to clean the house. A broom for cleaning dust and cobwebs, a basket for dirty laundry, a hammer for repairing furniture, detergents and much more. After the cleaning is done, you can start decorating the rooms. You can make major renovations to your home. It's like painting the walls, putting on new wallpaper, new furniture, and even the floor!
After this game, I want to clean my room. Isn't it?
Played: 18126. Added: 21-05-2021, 08:43.
Play other games from this developer:
Capy.com
. Categories:
Cleaning room