Minion cleans lab game
Follow us on Facebook and Youtube: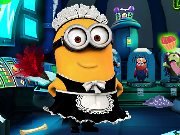 Description: Minion cleans lab
Minion is going to bring order to this messy lab. It seems that here a long time not cleaned. Let's think about it as quickly as possible and better to do the cleaning in this room.
How to play: in this game you will help the minion to clean the lab. Use a MOP and broom to clean debris from the floor. You have three buckets. Throw in there all the garbage and make the lab a shiny and clean. If you don't have to get something, use the tip. You will get points for correct action. But if you make a mistake, you get a penalty.