Minion shaves beard game
Follow us on Facebook and Youtube: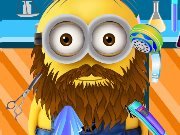 Description: Minion shaves beard
Minion has worked hard in his lab, and did various experiments. So he stopped to wash and shave his beard. Look how he became overgrown! It seems that it is necessary to trim the beard! Let's think about how to do it and make it beautiful.
How to play:
in this game we will be with you together to cut minion! Let's make it nice and get rid of this big beard. Use tools to shave his beard, as well as select a beautiful hat and his new trim mustache.
Minion shaves beard game walkthrough: