Cleaning in a toy store game
Follow us on Facebook and Youtube: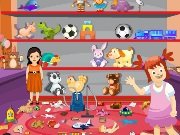 Description: Cleaning in a toy store
These two girls are so busy playing in the toy store that they did not notice that an hour had passed and it is time to leave. But what about the toys? They need to be put on the right places, and they can not cope on their own. It is so good that you can help them!
In order to clean the store, you only need a mouse and you have to be careful. Grab their toys with the mouse and drag to the shelves. Scraps of paper and other debris have to be thrown out in the trash. If you want to see the hint, click on the button "Hint" at the top right.