Cleaning the car game
Follow us on Facebook and Youtube: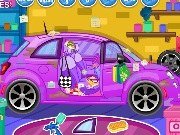 Description: Cleaning the car
After the long winter you decide to get behind the wheel of his car and drive out of town. But going to the garage, you were surprised that the car is very dirty. So let's arrange a cleaning machine. Throw rubbish in the bin, and the desired items in a box. After cleaning the machine, visit a car wash to wash the car. If you get clean in the first car, then you can start to clean up the second.
How to play:
in this game is to clean the machine you show your skills to restore order. First clean the small car, and then a larger one. Use the mouse to carry objects in the bin or box for things. Replace the two glass machine. In addition, remove rust stains and dirt from the machine.