Goldie Ruined Wedding game
Follow us on Facebook and Youtube: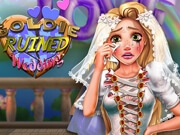 Description: Goldie Ruined Wedding
Oh no, Goldie prepared so carefully for the wedding, but the wicked stepmother used a spell to ruin this long-awaited day. Princess Goldie is very upset and does not know what to do now. But how good it is that she does not remain without help and in this game we will be able to help her with the renovation of the wedding hall, fix the cake, choose a new dress and also choose a new hairstyle. Goldie will be very glad of such help since she herself will definitely not have time for the arrival of the guests. Let's have a good time and help our bride out.
How to play
: Use your mouse or finger to perform the desired actions in this game. Clean the hall, fix the cake, choose a wedding outfit.