Pregnant Angela Room Cleaning game
Follow us on Facebook and Youtube: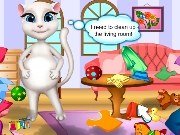 Description: Pregnant Angela Room Cleaning
Beautiful white cat Angela going to become a mother. After a few days the house will be full of kittens and then the mother have no time to have a spring cleaning. So she would make her house is clean before you visit your doctor. What do you think, is it easy for her to do so? Of course not. She would want you to help her. Tackle this difficult case and help Angela to become a happy mother.
How to play:
make a clean room Angela. Use the mouse to move the toys in the boxes. In addition, Angela has a cool vacuum cleaner. They can clean the floor from dust and debris. Using these simple instructions and prompts into the game you make her room very clean, and the cat will be very happy friendship with you.