Convertible car wash game
Follow us on Facebook and Youtube: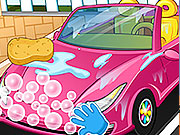 Description: Convertible car wash
You love cars? You know how easily they get dirty? Let's get down to cleaning your beautiful convertible. Imagine that you left the car for a while near the house, and then saw that it was very dirty. Now she can be in the leaves, dust, sticks, or it could be the broken glass.
How to play:
in this game, we wash the car, and then will be able to fix it. To do this, use the mouse and hints of the game. If you do not want to perform the current stage of the game, then click Skip.