Rapunzel makes cleaning in the room game
Follow us on Facebook and Youtube: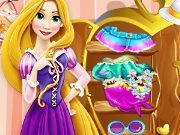 Description: Rapunzel makes cleaning in the room
Beauty Rapunzel decided to clean his room. It seems that it is a very long time to do the cleaning and was very busy with important matters. Let's see what you want to remove this game. It seems that you need to do spring cleaning. Before you three boxes. Princess will give you a broom and brush so that you can help her.
How to play:
is a game for the cleaning of the room. Therefore, use the mouse to endure all things in boxes that Rapunzel has prepared for you. Use a broom and brush and earn maximum points.
Rapunzel makes cleaning in the room game walkthrough: