Boyfriend Blazers Fashion game
Follow us on Facebook and Youtube: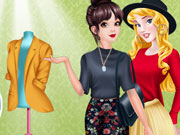 Description: Boyfriend Blazers Fashion
Modern fashionista needs to always be in shape and know that it is fashionable. In this time, Snow white found out that now fashion is very fashionable to wear stylish jackets that give elegance to the girls and look very stylish. So the Princess decided to invite her friends Belle, Ariel and Cinderella to go to the local fashion boutique. There is just today there is a new collection of jackets. Girlfriend happily agreed to go to the store and find out what interesting was invented by the designers and how they will look on girls.
In this game you will need only the mouse and your sense of taste. Pick one Princess and try on these beautiful jackets, jeans, skirts and other fashion accessories now.