Couples autumn outfits game
Follow us on Facebook and Youtube: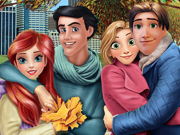 Description: Couples autumn outfits
Even in the Disney world, the colder time of the year is autumn and everyone needs to think about what they will wear to keep warm. In this dress up game, you can pick up warm and cozy clothes for these lovely couples who are walking in the city park. I think you recognized Princess Ariel and Rapunzel and their guys. Down with beautiful dresses for a point, shoes and a veil. On the street, leaves are already turning yellow and I want to warm up! Make sure that they have beautiful outfits that suit them and our beloved heroes will wear them with pleasure.