Pandemic Mask Decoration game
Follow us on Facebook and Youtube: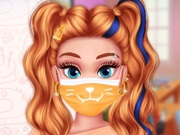 Description: Pandemic Mask Decoration
In the modern world, it is already difficult to imagine that on the street people walk freely without masks. This subject has already firmly entered our life. Hopefully, this will be finished soon and as soon as possible, but for now, they cannot be dispensed with. In this game, our princesses decided to add something new to their mask design and create beautiful masks by adding new colors and cute patterns to their designs. You can choose different shapes and materials for the six girls. Then pick a color. Now you can start choosing jewelry in the form of patterns with animals or interesting prints. And of course, as without the choice of makeup, hairstyles, dresses, and other jewelry.