Princesses Ice Skating Fun game
Follow us on Facebook and Youtube: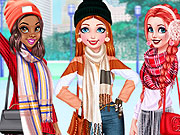 Description: Princesses Ice Skating Fun
Ice skating is a very fun and energetic form of relaxation. This is especially fine if you do not ride it yourself. Princess Ariel, Merida and Tiana decided to relax together this weekend and go to the rink where they will spend several hours skating. To do this, they need to take care of warm and comfortable clothes that each of them needs to choose. Girls, offer them your help in choosing outfits for skiing. In this dress up game, princesses will skate, and you will pick up a light make-up and outfit for them to relax together.