Princess Dentist Adventure game
Follow us on Facebook and Youtube: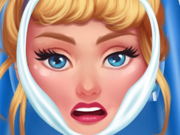 Description: Princess Dentist Adventure
If you visit the dentist regularly, then this is a common thing for you and you are unlikely to be afraid of it. But if you do not follow your teeth and do not visit the dentist, then you may have a problem with your teeth. In this game, Princess Cindy came to the dentist as her teeth began to bother her. They hurt her and do not look very healthy. And all because she ate a lot of sweets, did not brush her teeth and did not visit the dentist so that he assessed their condition. You will help the doctor examine and then treat the girl. Use a variety of tools to remove the bandage, clean your teeth, cure tooth decay and repair your tooth if necessary. Such games are very helpful in understanding how important it is to visit a dentist and how difficult their work is.