Talking Tom Arm Surgery game
Follow us on Facebook and Youtube: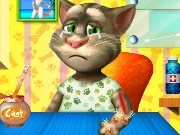 Description: Talking Tom Arm Surgery
Beautiful and fluffy cat Tom was in a hurry to his beloved cat Angela, fell in the trash. He hurt his hand and he urgently needed medical attention. Help him to go to the doctor. After all, he is very afraid of pain, but to go to the doctor you need! Help the doctor make a diagnosis, give a pill of pain to the cat, and then take a shot and x-rays of hands. So you can treat kitty and make him happy again.
How to play: use the mouse to cure the Tom cat, to get fish bone out of his hand, and then make his hand well.