Make up for Rochelle Goyle game
Follow us on Facebook and Youtube: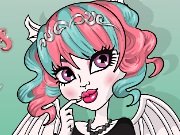 Description: Make up for Rochelle Goyle
Meet the new Monster High student - Rochelle Goyle. She looks about 16 years old, but really she is 415 in the passport! Maybe it's because her parents are gargoyles? She loves her friends and always stands up for them. Sometimes she is a little crazy, but whom does not it happen with? Her favorite color is grey, her favorite candy is "hard rock." By the way, she has a rare hobby. In her spare time, she creates sculptures. She lives at very high levels and she turnes into a statue on the day. As soon as the sun goes down, then Rochelle immediately comes to life.
In this game you will make a cool makeup for her and then see what this girl wears and try something new on her. After all, she's new to Monster High and she needs to look cool!