Scara Screams game
Follow us on Facebook and Youtube: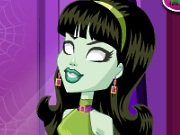 Description: Scara Screams
Scara Screams is another of the interesting girls in Monster High. It is said that she is the Banshee's daughter. As it is seen in the picture, she has a very unusual eyes and look. Pay attention to her white eyes, her hair, which was worn in the 60's. Her skin is pale blue sometimes, and sometimes it is a greenish color. Hair also has an unusual hue. It is black with a greenish tinge. Usually Scara is a very nice girl and she always helps her friends.
How to play:
refresh makeup and style of the girl in this Monster High game. Choose hairstyle, new clothes and makeup for her. Click with the mouse on the subjects and they appear on her.
Played: 76185. Added: 7-10-2012, 16:14.
Play other games from this developer:
StarSue.net
. Categories:
Monster high