Belle Books And Fashion game
Follow us on Facebook and Youtube: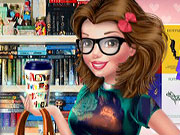 Description: Belle Books And Fashion
Are you familiar with Princess Belle from the Disney cartoon? Certainly familiar! This beautiful girl is so famous that it can be found anywhere, but in a bookstore, nobody expected to see it! This beautiful Disney princess loves to read and has a large collection of books. In addition, it is known as a great woman of fashion, which is well versed in fashion. Let's show that we are a famous girl who also has excellent taste and can easily surprise her.
Use your mouse to click buttons at the bottom of the screen to decorate the girl's room and books, pillows, and garlands. In addition, you will be able to try a few dresses, skirts and blouses. Do not forget about the shoes and jewelry. I wish you well in this fun
dress up game
!