Easter outfit game
Follow us on Facebook and Youtube: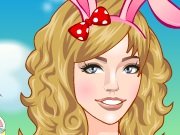 Description: Easter outfit
Do you love the holidays? What about Easter? It is so good that we celebrate this holiday in the spring! It is pleasant and joyful on the heart. This girl is particularly pleased with it and is going to prepare for it properly. She has already chosen dresses, hairstyles and jewelry, but how to combine them and what is best she does not know. Help her to decide.
How to play: Press the buttons in the form of Easter eggs and a girl in the game Try on dresses, hair styles, choose decorations
If you want to take a course, click on the Tutorial button at the beginning of the game.