Chibi Robecca Steam game
Follow us on Facebook and Youtube: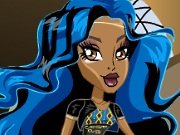 Description: Chibi Robecca Steam
Meet the new Chibi Robekka Steam! She has no family. Robecca was created by a mad scientist and he is considered to be her father, but when he was gone, then Robekka started to live with the old witch. This witch was her foster mother and sent Robecca to the Monster High.
How to play:
Press icons with pictures of hairstyles, clothes and jewelry to choose something to decorate her. Grab the items with your mouse and drag to Robekka. If you want to bring hairstyle or clothes back, then click on it with the mouse. You can zoom the picture in and out. To do this click the plus and minus on the panel "zoom". When finished dressing the Robekka Steam, press "Done". What do you think about the game?