Abby is going to Scaris dress up game
Follow us on Facebook and Youtube: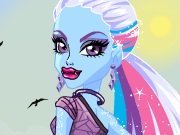 Description: Abby is going to Scaris dress up
Abby and her friends from the Monster High are going to Scaris . This city is located in France and there they will study architecture and fashion . But Abby has something to show you. She is well versed in fashion and there are many beautiful and interesting things in her wardrobe.
How to play : Watch how Abby looks now and offer her a new hairstyle, clothes and shoes. Do not forget the jewelry. Create the best image for her. In the game you will only need the mouse . Drag whatever you want to try it and see what you get.
Played: 59202. Added: 23-03-2014, 23:22.
Play other games from this developer:
StarSue.net
. Categories:
Monster high