Draculaura on the beach game
Follow us on Facebook and Youtube: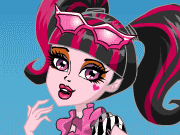 Description: Draculaura on the beach
Draculaura and her friends from the Monster High come to rest on the beach! It is hot there and a there is lot of sun, and Draculaura does not like the sun and sunbathing! But with her friends she is ready to go to the end of the world!
To play, use your mouse. Choose clothes buttons with kinds of clothes and click on them. So you can find beautiful hairstyles, jewelry, dresses, shoes and beautiful swimwear to relax on the warm sea in her wardrobe.