Twyla from the Monster high game
Follow us on Facebook and Youtube: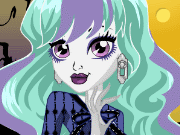 Description: Twyla from the Monster high
Hi! Do you know Twyla ? She is the boogieman's daughter. Her main feature is that Twyla likes to hide under the children's' bed and steal their fears, just opposite to her father, who frightens children in their sleep. In addition, she is shy and sometimes not logical.
How to play: dress up this girl and create her a friendly image. First, start to choose a dress, and then her hair, shoes and jewelry. In this dress she was going to visit her father. So you have a very responsible task.
Played: 55530. Added: 16-05-2014, 06:32.
Play other games from this developer:
StarSue.net
. Categories:
Monster high