Cleo de Nile on Halloween game
Follow us on Facebook and Youtube: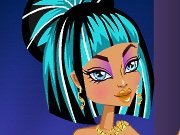 Description: Cleo de Nile on Halloween
This year on Halloween vampires decided not to stay at home, and have a good rest of the people., they prepare for this in advance, but they can't make it in choosing attire. Help the vampire from the Monster High and choose a dress for Cleo De Nile in this beautiful dressing up game.
How to play:
here you can choose the makeup, hair, dress and jewelry for the beautiful vampire Cleo de Nile. Click on the tabs, and then the objects themselves to see them on the girl.